Welcome to Anchorage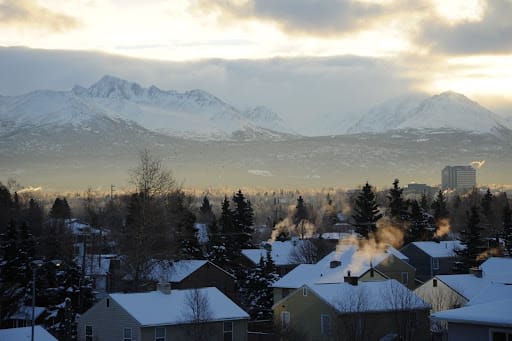 Considered the gateway to the Alaskan wilderness and adventure, Anchorage is a beautiful city with vibrant arts and culture, convenient urban amenities, and abundant wildlife. Anchorage sits at the epicenter of quintessential Alaska living, including access to vast parks and trails and mountains like the Kenai, Talkeetna, and Chugach.

Anchorage is known for its variety of cultural sites, such as the Alaska Native Heritage Center, and its tax-friendly status. It was named the nation's most tax-friendly city in 2018 by Kiplinger and previously won the National Civic League's All-American City Award four times. Founded in 1914 as the headquarters of the Alaska Railroad, Anchorage has since blossomed into the state's largest city, with a population of 291,247 people.

This incredibly unique city offers a distinct combination of suburbia and wilderness, providing a tranquil oasis for families to grow and thrive. On Niche, Anchorage ranks as one of the top 100 healthiest places to live in the country. For jobs, most residents work within Anchorage's most significant economic sectors, including tourism, corporate headquarters, transportation, municipal, state, and federal government, military, or resource extraction. Much of Anchorage's economy depends on the area's geographical location and natural resources.

There is nowhere else in the world quite like Anchorage, a place where you can surround yourself with breathtaking scenery and natural wonder at any moment of the day.


Inside the Neighborhoods
Anchorage is a big city with many neighborhoods to choose from, depending on your lifestyle and preference. In the Northern area, you'll find a smattering of small, rural communities tucked between Chugach State Park and Knik Arm. This region is ideal for nature lovers as its sandwiched between two popular wilderness spots yet still close enough to the city for urban conveniences.
The Southern neighborhoods are similar to the North, although they tend to be closer to the city. If you want to live somewhere relatively secluded but still feel close to the metropolis, then the neighborhoods here are ideal. The Northern communities include Eagle River, Birchwood, Chugiak, Eklutna, and Peters Creek, while in the South, you'll find Rabbit Creek, Bird, Girdwood, Indian, and Rainbow.

There are also several great places to live in downtown Anchorage, a walkable and pedestrian-friendly city that will put you in the center of everything happening in town.


Popular Seasonal Activities
You might think Anchorage, Alaska is only fit for winter weather, but that's simply not true. There are plenty of seasonal activities to enjoy in this beautiful city year-round.

When the days are long and the sun is bright, you can walk or bike along the Tony Knowles Coastal Trail during the summer months. This trail is considered Anchorage's best, stretching 11 miles between downtown and the chalet at Kincaid Park. Summer is also the perfect time to climb Flattop Mountain or to try urban fishing at Ship Creek.

Of course, there is no shortage of activities to do during the winter months, from viewing the Northern Lights and skiing to dog sledding and touring the glaciers, you'll never be bored. Adventurers and outdoor enthusiasts can't get enough of the Anchorage wilderness during the icy months.

The world-famous dog-sled race, the Iditarod stretching across 1,000 miles, starts in March. But beyond that, there are plenty of opportunities to go ice fishing, take a sightseeing flight, and much more. Exceptional recreational facilities in the area are Arctic Valley Ski Area, Alyeska Resort, and Hilltop Ski Area.


If you're looking for something in one of the off-seasons, consider taking in a show at the Alaska Center for the Performing Arts, a sprawling complex that hosts dozens of performing arts events throughout the year. Several fantastic museums are worth visiting, including the Alaska Native Heritage Center, the Anchorage Museum, and the Alaska Aviation Museum.


Best Bars & Restaurants
Anchorage is home to some excellent local restaurants, breweries, and bars. Southside Bistro is a warm neighborhood favorite known for serving elevated New American fare inside cozy environs. For something more casual, you might want to try Moose Tooth Pub & Pizzeria, a low-key hangout spot known for its inventive pizzas and psychedelic artwork. Moose Tooth was also previously ranked third best pizzeria in the United States.

Located right outside the Denali National Park, 49th State Brewery is a lively Alaskan-based brewery where you can snack on creative bar bites while sipping delicious housemade ales.